Los Angeles's NBC affiliate reports:
Armored tanks — and a bomb squad — descended upon the white van in Torrance, Calif. before noon local time, in what became a more than hour-long standoff. Just before 1 p.m. local time, a SWAT team opened the passenger door of the vehicle, and then the side doors. Photos taken of the van showed a man slumped over in the driver's seat of the van. Five men and five women were slain during the rampage at the ballroom dance club, about eight miles outside downtown Los Angeles, according to police.
Read the full article. At this writing police have not officially confirmed that the dead man is the shooting suspect.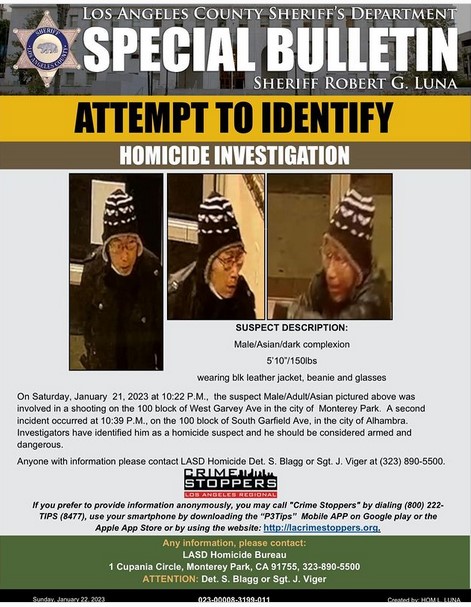 #BREAKING: Officers have smashed windows and searched the white van in Torrance. A witness told KTLA that a person was dead inside from an apparent self-inflicted gunshot wound. #MontereyPark Live coverage: https://t.co/Pjg7l9Z6Ff pic.twitter.com/2i3b4L7TAd

— KTLA (@KTLA) January 22, 2023
A Witness told KTLA the person inside the van is dead due to a self-inflicted gunshot wound. Authorities have not yet confirmed the deceased person is related to the #MontereyPark shooting but it looked like the persone was wearing the same wool cap the suspect was wearing. pic.twitter.com/vaztJxfDzS

— Valentina Martelli (@ValentinaInLA) January 22, 2023
The suspected shooter believed to have killed 10 people at a ballroom dance studio in Monterey Park amid Lunar New Year celebrations was found dead inside a van at a local strip mall, according to reports. https://t.co/1ocwztrFQ9

— Spectrum News 1 HV (@SPECNews1HV) January 22, 2023