NBC News reports:
Twitter will no longer allow users to promote their accounts on at least seven other major social media sites, including Facebook, Instagram and Truth Social, the platform announced Sunday.

The new policy comes after many users began posting links to their accounts on other sites following Elon Musk's takeover as CEO of Twitter and the platform's subsequent reinstatement of far-right accounts, suspension of journalists and mass layoffs under his reign.

"We recognize that many of our users are active on other social media platforms. However, we will no longer allow free promotion of certain social media platforms on Twitter," Twitter Support tweeted Sunday.
Read the full article.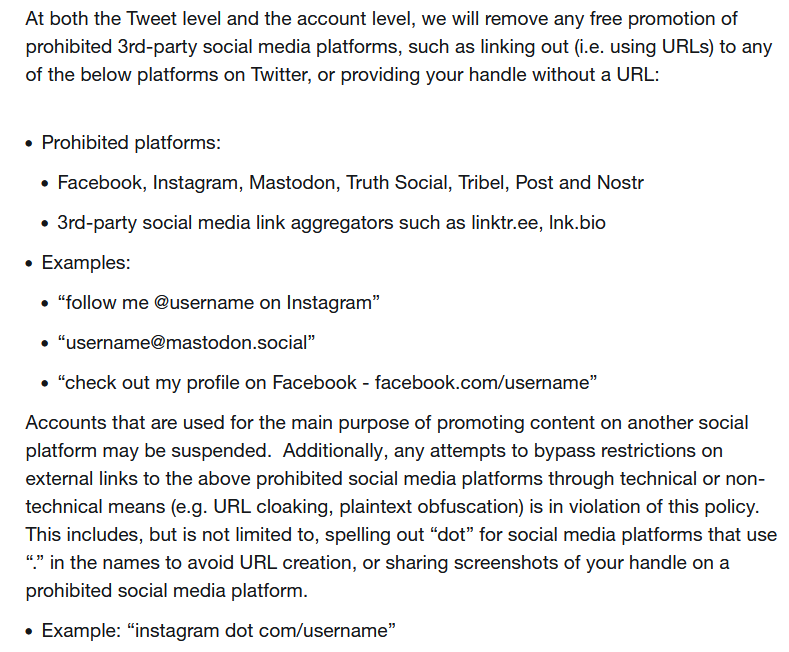 Specifically, we will remove accounts created solely for the purpose of promoting other social platforms and content that contains links or usernames for the following platforms: Facebook, Instagram, Mastodon, Truth Social, Tribel, Nostr and Post.

— Twitter Support (@TwitterSupport) December 18, 2022
So glad that Twitter is now all about free speech. https://t.co/7dm9kayQAX

— Ali Velshi (@AliVelshi) December 18, 2022
Trying to keep people from finding the exits? What is this, IKEA? https://t.co/toNrRH9jMi

— Kyle Clark (@KyleClark) December 18, 2022
Panic mode activated, their internal numbers on people fleeing must be jaw-dropping. Why else would you ban people from simply mentioning where else they can be found online? https://t.co/P4urV3OTln

— Max Kennerly (@MaxKennerly) December 18, 2022