Nashville's NBC affiliate reports:
Tennessee Lieutenant Governor Randy McNally walked past reporters and passed on questions after a member of his own party submitted a letter calling for his resignation. "It's time for him to resign. He's had a week, I was hoping he would step down on his own and he has chosen not to do so," Rep. Todd Warner, a Republican told reporters at the Capitol.

The letter he submitted was even more inflammatory, calling Lt. Gov. McNally a predator, it claims he began sexually grooming his victim and calls on McNally to step down immediately. "Your release mentioned him being a groomer, do you have any evidence of that?" asked NewsChannel 5. "Watch the videos, look back at the posts," replied Rep. Warner.
Read the full article. Details about the FBI raid at Warner's office that you can see mentioned below are here. As you might expect, the case involves Jesus and money.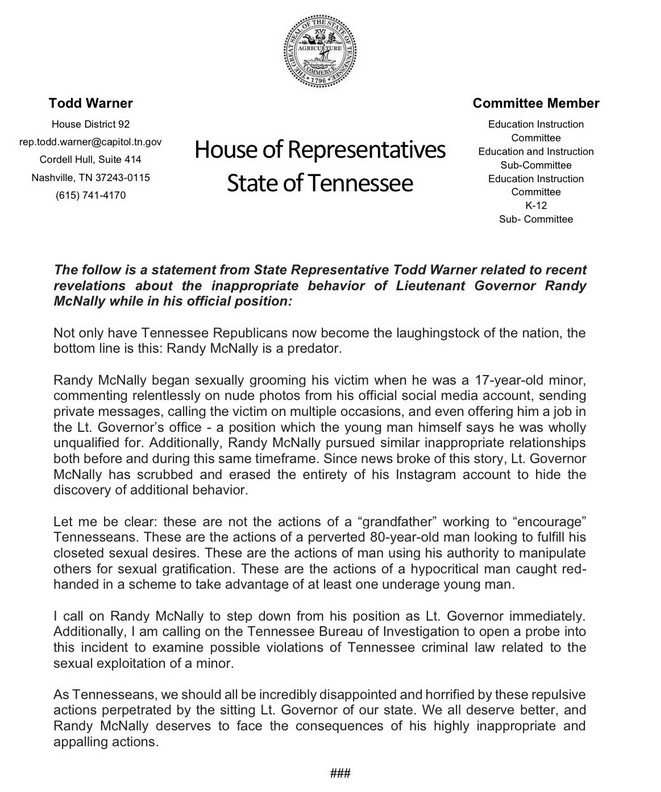 A lawmaker, whose office was raided by the FBI two years ago, is asking Lt. Gov. McNally to step down after his Instagram blunder.

Reporting by @ChrisDavisMMJ.https://t.co/zkinzBJYwP

— NewsChannel 5 (@NC5) March 16, 2023
⚡️ INBOX: "Tennessee Republicans have become a laughingstock of 🇺🇸… McNally is a predator… the actions of a perverted 80yo man… I call on @ltgovmcnally to step down immediately…"

REPUBLICAN Rep. Todd Warner (Chapel Hill) calls on McNally to give up his gavel. #RandyRandy pic.twitter.com/DSAIbTA4Hm

— The Tennessee Holler (@TheTNHoller) March 16, 2023