CNN reports:
Carlson aired never-before-seen surveillance footage that he said showed Capitol police officer Brian Sicknick, who died one day after the January 6 insurrection. Carlson said he focused on this because Democrats have turned Sicknick into a "prop" and a "martyr" by overstating the links between his death and the insurrection.

The video shows Sicknick in the crypt of the Capitol, appearing to give instructions to some of the nearby rioters who are milling around the area, repeatedly waving his arms. Carlson argued that Sicknick looks "healthy and vigorous" in the video, and therefore "it's hard to imagine" that he was severely injured by the rioters or that he died because of the insurrection.

On January 6, Sicknick was attacked with pepper spray and physically fought with members of the mob. An officer testified that she saw Sicknick in significant distress after he was sprayed. He died one day later after suffering a series of strokes.
Newsweek reports:
In response Sicknick's family released a statement, saying they were "outraged at the ongoing attack on our family by the unscrupulous and outright sleazy so-called 'news' network of Fox News who will do the bidding of Trump or any of his sycophant followers, no matter what damage is done to the families of the fallen."

They continued: "Carlson's 'truth' is to pick and choose footage that supports his delusional views that the Jan 6th insurrection was peaceful and that Ashley Babbit was some kind of martyr. Whilst making a criminal out to be a martyr, he is also downplaying the horrid situation faced by the USCP and DC Metro Police who were incredibly outnumbered and were literally fighting for their very lives."
The family's full statement is below. Wow. In January 2023, one of the rioters who attacked Sicknick was sentenced to 6.5 years in prison. The rioter's family promptly issued a money beg. Sicknick's family is suing Trump.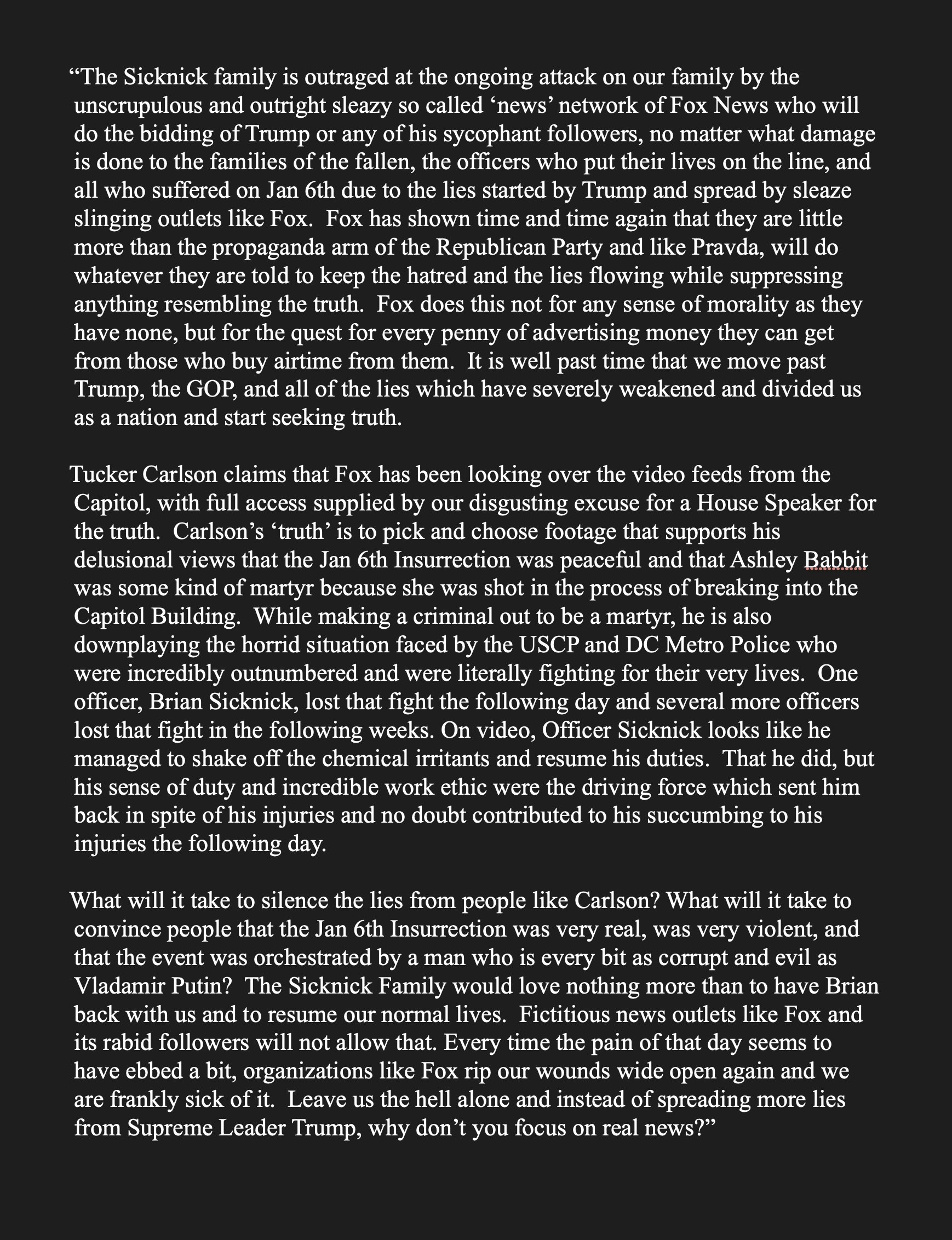 We are mourning the death of United States Capitol Police Officer Brian Sicknick who died defending our Capitol from the violent mob.

Join us in praying for Officer Sicknick's loved ones, our Capitol police officers, and for our country. pic.twitter.com/YjZBpJyiA1

— House Republicans (@HouseGOP) January 8, 2021