From the Justice Department:
A Mississippi man, who also briefly lived in California, was sentenced today to 78 months in prison for assaulting law enforcement officers during the breach of the U.S. Capitol on Jan. 6, 2021.

His and others' actions disrupted a joint session of the U.S. Congress convened to ascertain and count the electoral votes related to the presidential election.

James McGrew, 40, of Biloxi, Mississippi and Carlsbad, California, pleaded guilty on May 13, 2022, in the District of Columbia, to assaulting, resisting, or impeding officers.

In addition to the prison term, U.S. District Court Judge Beryl A. Howell ordered 36 months of supervised release, a $5,000 fine and $2,000 restitution.

According to court documents, McGrew engaged in a series of confrontations with law enforcement officers on Jan. 6.

He was part of a crowd that overwhelmed law enforcement officers attempting to prevent rioters from advancing further on the restricted grounds.

He proceeded to an area outside the Upper West Terrace doors to the Capitol Building. He shot video of the scene, shouting "let's go" approximately 14 times, and "we took this thing."

McGrew entered the Capitol at 2:45 and moved to the Rotunda, where officers were attempting to clear rioters out of the building.

At approximately 3:05 p.m., he pushed one officer and struck another officer who was standing before him.

Two minutes later, another officer used his baton to push McGrew and others closer to the exit. McGrew struck the officer and lunged for the officer's baton.

He then engaged in an altercation with yet another officer. Officers eventually pushed McGrew and others out of the Rotunda, and he exited the building at 3:22 p.m.

About 45 minutes later, however, McGrew joined in an attack against officers attempting to secure the Lower West Terrace tunnel entrance to the building.

At approximately 4:13 p.m., another rioter in the crowd handed McGrew a wooden handrail with metal brackets attached, almost the same height as McGrew.

McGrew positioned the handrail over his head and launched it into the tunnel, throwing the end with the metal brackets towards the law enforcement officers.

The handrail appeared to hit the shield or visor of an officer. McGrew then joined in more pushing, gaining access into the tunnel area until being pushed out by officers at approximately 4:20 p.m.
From his mother's GiveSendGo money beg:
My son is being held in Washington DC for Jan 6th Rally. We were their to express our voice that day on election integrity.

He was arrested May 27th and is being held with no release. He is a veteran of the Marine Corp and joined after 911 to fight for his country.

While he was serving his country he and two other Marines were hit by a IED while on patrol. He would downplay his injuries until he finished his tour over there and back home.

The transition was not easy getting out on Honorable discharge for medical after his enlistment of only 4 years because he wanted so bad to stay in and be there with his buddies.

James's loves his country, He is a 3rd generation Marine. His Grandfather and his Father were also Marines. James's was brought up to Love and Fear God.

He is a father of one son and helps take care of an Old Mom. James needs medical treatment also that may require surgery. WE NEED JAMES HOME.

This givesendgo has been set up to help with legal fees, commissary, phone calls and other responsibilities James has with no income because of incarceration.

We greatly appreciated all the support everyone has shown and there is still a Great America. God Bless and Thank You.
So she was WITH him?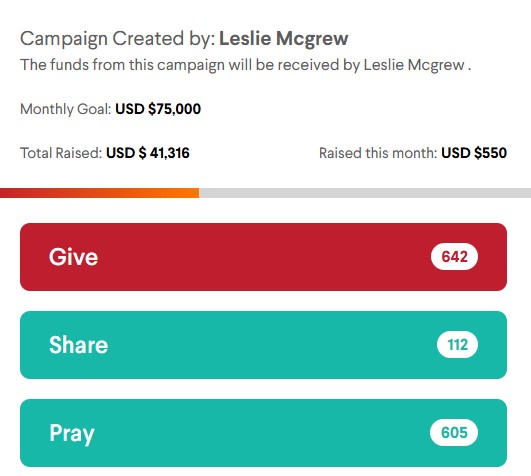 PROTIP: When storming the U.S. Capitol, it to avoid displaying your "KING JAMES" belly tattoo to a police body camera, especially if your belly tattoo was previously photographed in a booking photo.

James McGrew was arrested in Arizona over the weekend: pic.twitter.com/qLF1AgCyLB

— Ryan J. Reilly (@ryanjreilly) June 1, 2021
"we're coming in here, whether you like it or not…" "fight with us, not against us…" "You leave. This is our house…."

McGrew affidavit here (h/t @JustinRohrlich) https://t.co/xSzxJXHjGQ pic.twitter.com/4bxRBHW9AE

— Ryan J. Reilly (@ryanjreilly) June 1, 2021