Boston's ABC affiliate reports:
Tufts University Police are alerting students and faculty that a bomb threat has been reported affecting the Tufts University Medford/Somerville campus. University Police are asking everyone to take their belongings with them.

Authorities are searching East Hall, Anderson Hall, Bendetson Hall, 7th floor of the Dowling building, Paige Hall, Miner Hall, Joyce Cummings Center, SEC Complex, and Robinson Hall.

Police say that if students need a place to go, they should go to the Gantcher Center at 161 College Ave. in Medford. Last night, a bomb threat was also reported, the campus was checked and deemed safe to return.
Mass Live reports:
Students and staff at Tufts University were told to evacuate several of their campus buildings again after another a second bomb threat was reported at the school in less than 24 hours, according to Tufts University Police.

On Wednesday afternoon, Tufts students were told to evacuate Ballou Hall, Miller Hall and the Campus Center following a bomb threat that blamed the school for fueling "anti-white racism" through its curriculum, campus police said.

The bomb threat came in the form of an email that was sent to the university's diversity department from an account named "Skipper Badenhorst," according to a screenshot of the email obtained from the Boston Globe.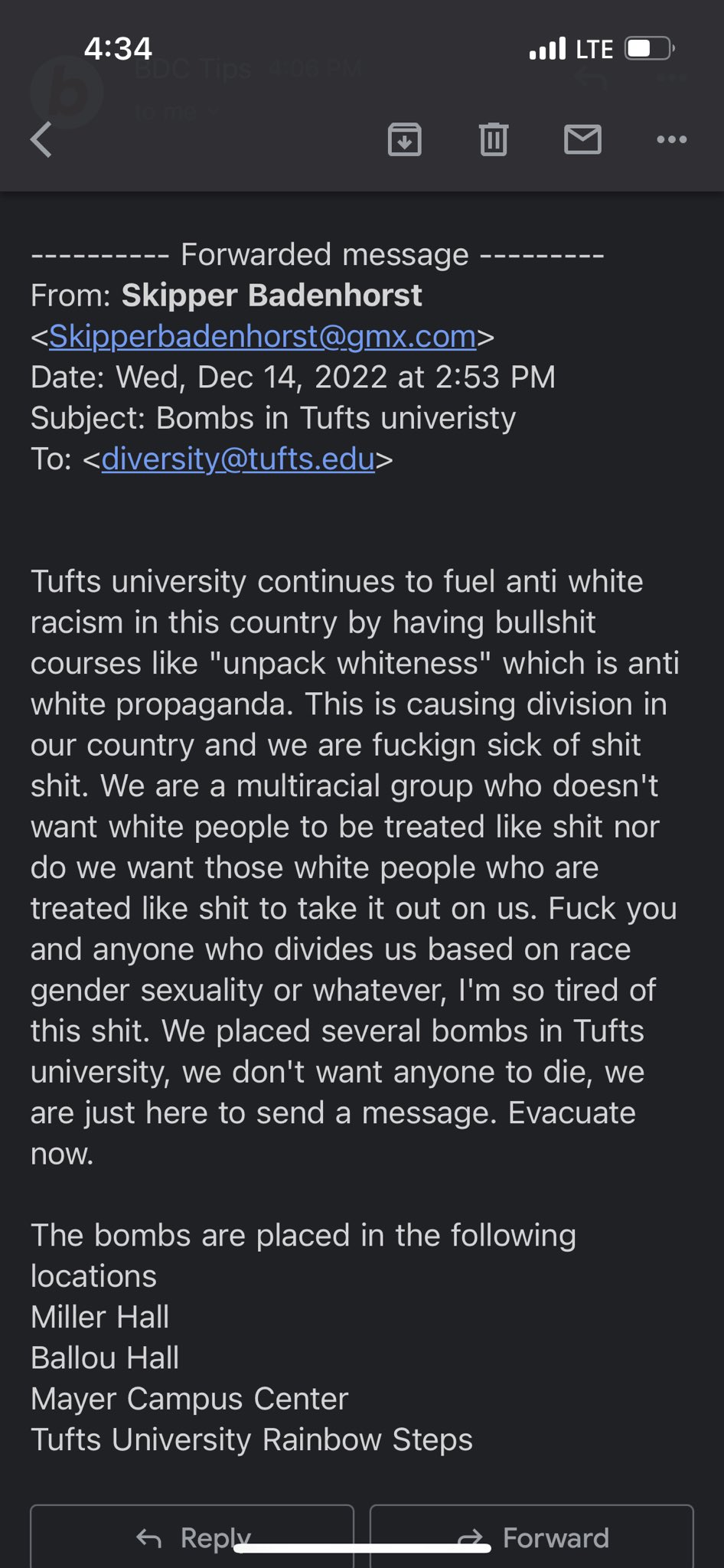 Responders from Somerville, Medford, Mass State Police and Tufts University are on scene on the Medford/Somerville campus of Tufts university again this morning after another large area bomb threat was called in. There are multiple buildings being swept by EOD units at this time. pic.twitter.com/mQ91i0NgbT

— Live Boston (@LiveBoston617) December 15, 2022