Talking Points Memo reports:
White House Chief of Staff Mark Meadows exchanged text messages with at least 34 Republican members of Congress as they plotted to overturn President Trump's loss in the 2020 election. Those messages are being fully, publicly documented here for the first time.

One message identified as coming from Rep. Ralph Norman (R-SC) to Meadows on January 17, 2021, three days before Joe Biden was set to take office, is a raw distillation of the various themes in the congressional correspondence.

In the text, despite a typo, Norman seemed to be proposing a dramatic last ditch plan: having Trump impose martial law during his final hours in office.
Read the full article. There's much MUCH more.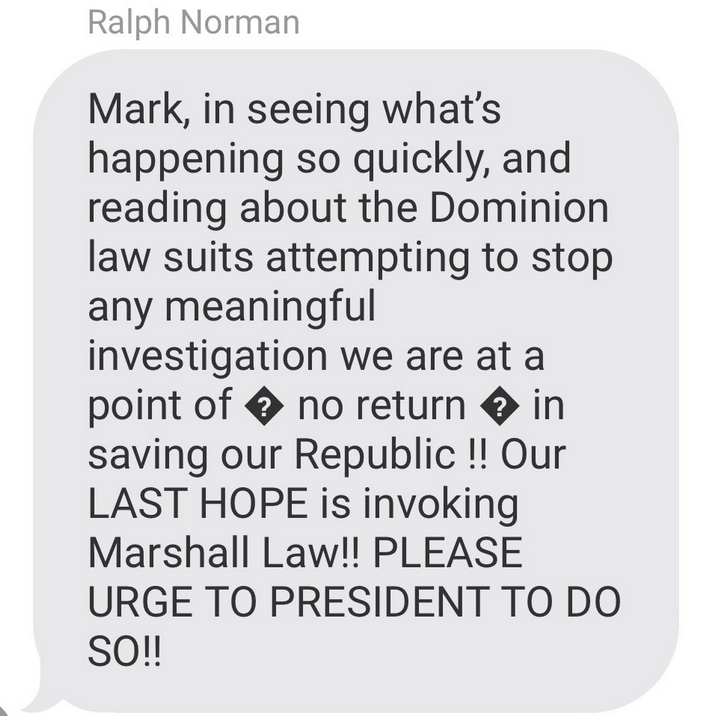 TPM EXCLUSIVE: Rep. Ralph Norman (R-SC) in a text to Mark Meadows, 3 days before Biden's inauguration:

"Our LAST HOPE is invoking Marshall Law!! PLEASE URGE TO PRESIDENT TO DO SO!!"https://t.co/6I8FPf8XTB via @TPM

— David Kurtz (@TPM_dk) December 12, 2022