Kyle Mantyla reports at Right Wing Watch:
In April 2021, business consultant and right-wing podcast host Clay Clark organized a conference in Tulsa, Oklahoma, aimed at defying national and local restrictions put in place during the COVID-19 pandemic. A radical right-wing conspiracy theorist, Clark filled the event with a variety of like-minded COVID-19, election, and QAnon conspiracy theorists such as Michael Flynn, Greg Locke, Patrick Byrne, Stella Immanuel, Mark Burns, and Mike Lindell.

The event was such a success among the MAGA crowd that Clark decided to launch a nationwide "ReAwaken America" tour to bring his carnival of misinformation to churches all across the country. Later this month, the tour will be stopping in Manheim, Pennsylvania, and listed among the speakers is Doug Mastriano, the election-denying, Christian nationalism-promoting Republican nominee for governor of Pennsylvania.
Read the full article.
Clay Clark last appeared on JMG in early September when his predicted "5G towers activate COVID vaccines" zombie apocalypse failed to occur.
As I also previously reported, Clark's events have featured Dr. Demon Semen claiming that Jesus would undo your COVID vaccine if you pray for him to do it.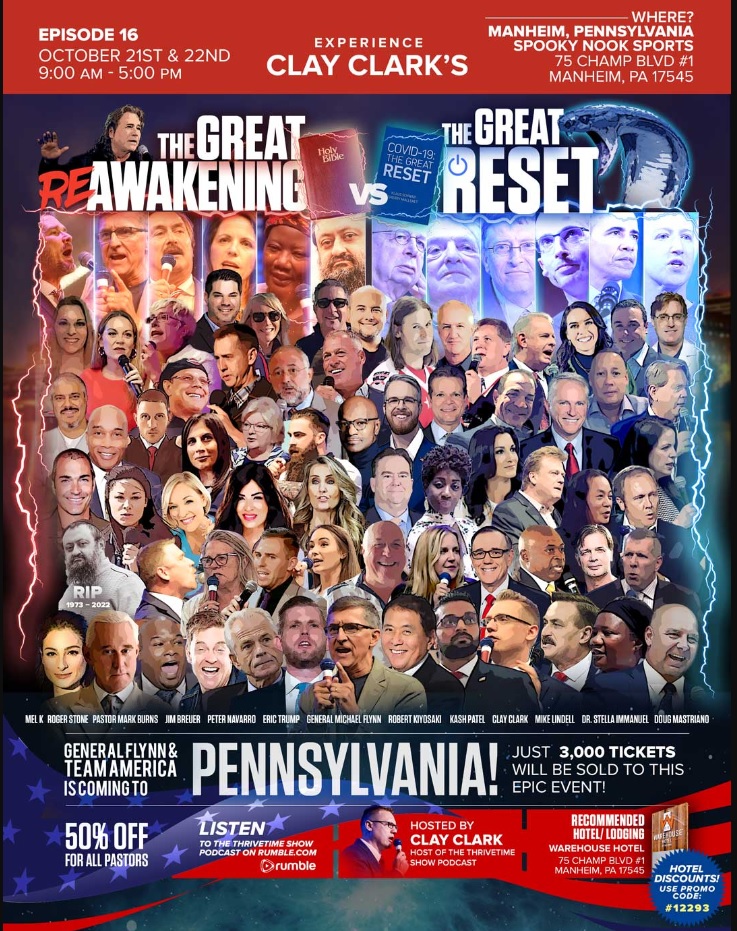 Right-wing anti-vaccine "expert" Stella Immanuel claims that Nancy Pelosi, Joe Biden, Bill Gates and others are dead and have had their brains downloaded to the internet while their bodies have been replaced by demonic clones. pic.twitter.com/WcC5TWbp2j

— Right Wing Watch (@RightWingWatch) May 23, 2022
Sherri Tenpenny, one of the right's leading anti-vaccine "experts," claims that COVID vaccines are creating "quantum entanglement" between those who take them and "the Google credit scores and the dematrix and all of those things." pic.twitter.com/1Hft5GXZMu

— Right Wing Watch (@RightWingWatch) January 27, 2022