The Boston Herald reports:
A group of about 100 marchers identifying themselves by flyers as belonging to the white nationalist group the Patriot Front, cut through the heart of downtown Saturday sparking a confrontation. A scanner call came in at around 12:30 p.m. announcing that a group had gone up to a rental truck parked in the area of the Haymarket MBTA station and off-loaded a number of shields and flags.

Many were U.S. flags, with at least one flown upside-down and many showing just the 13 stars in a circle for the original U.S. colonies, as well as flags featuring different designs. Many flags also had a stylized version of the symbol that represented Benito Mussolini's National Fascist Party. Photos from the scene show that many, if not most, of the marchers were dressed in matching khaki pants and navy polo shirts and wore bandanas over their lower faces.
Read the full article.
As you can see below, the homocon fake news site Gateway Pundit is spreading the QAnon lie that Patriot Front is a secret operation by the FBI.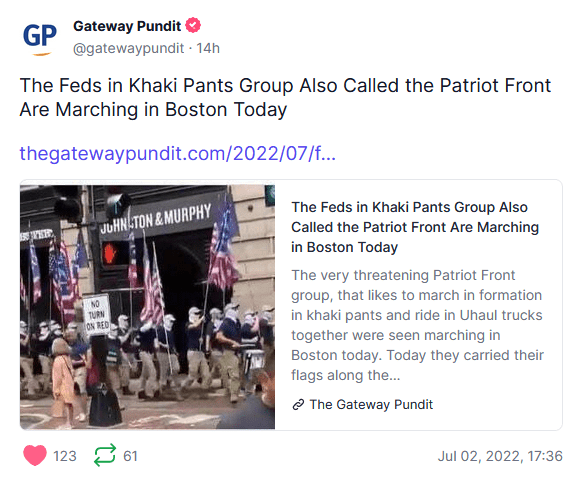 #Boston mayor condemns 'white supremacist' march through city.
The group of about 100 marchers, most hiding their faces, identified themselves via flyers as belonging to the white nationalist group the Patriot Front.https://t.co/s0ooOH2Rhq

— Alphonso Van Marsh (@AlphonsoVM) July 3, 2022
Hey U-Haul, quit moving Patriot Front members around America. @UHaul_Cares pic.twitter.com/jXvpSVQWW4

— Outspoken™️ (@Out5p0ken) July 2, 2022
In a world of proud boys, patriot front, three percenters, klan members and all in all general racists. Be this guy. pic.twitter.com/vGCP4cQnYZ

— Ghan-buri-Ghan (@GhanburiGhan5) July 3, 2022
Patriot Front, a masked neo-Nazi & white supremacist gang, marches out of an @MBTA Orange Line station using the @TheCityofMalden as their staging ground. They almost smashed my phone, but I got it back and kept up the chant:

NAZIS OUT OF BOSTON. pic.twitter.com/9xV7XUnXWB

— James Meickle (@jmeickle) July 2, 2022
White supremacist group Patriot Front marches in Boston to demonstrate their love for right-wing fascism without showing their faces because they're cowards pic.twitter.com/nzB2i6T1dk

— Fifty Shades of Whey (@davenewworld_2) July 2, 2022
Weird, Covid must be outta control in Boston since they are all masked. Good to see they believe in science. https://t.co/a9rPaJDNfL

— Adam Kinzinger🇺🇦🇺🇸✌️ (@AdamKinzinger) July 2, 2022