Raw Story reports:
Former Gov. Nikki Haley (R-SC), who graduated with an accounting degree from Clemson University, got confused while trying to attack President Joe Biden. The Republican politician showed a list that attempted to blame Biden for inflation, which is actually a problem that is happening around the world.

The graphic then added up the percentages that have increased due to inflation, declaring that all of those items together mean families are paying 67 percent more for items. The problem, however, is that isn't how inflation works or how percentages work.
Read the full article. Haley has deleted the tweet.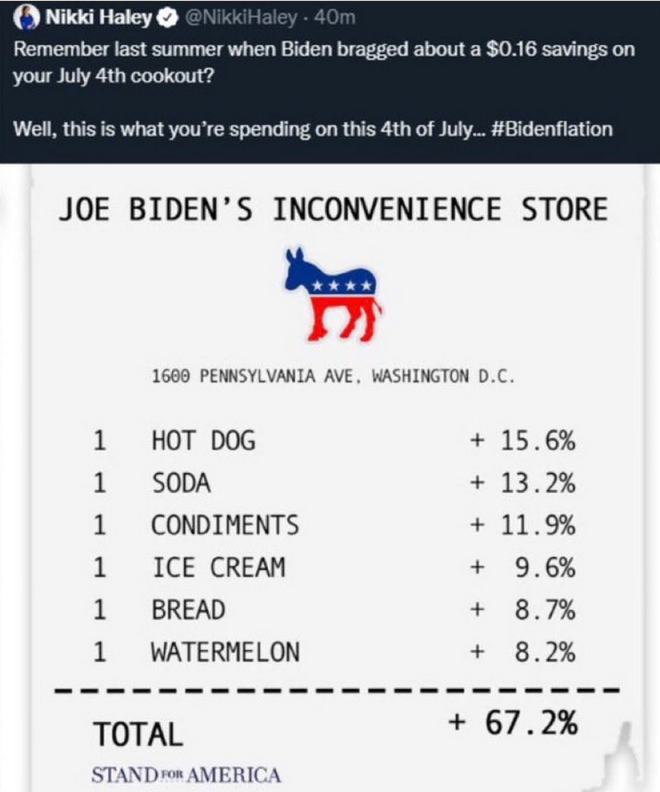 My god I thought this was fake until I found a second screenshot@NikkiHaley – with an accounting degree and a former treasurer of a business association – is really this stupid: pic.twitter.com/UMy7DJVHll

— Keith Olbermann (@KeithOlbermann) July 4, 2022
She has an ACCOUNTING degree ? pic.twitter.com/69gX6kGJJX

— Santiago Mayer (@santiagomayer_) July 4, 2022