The SPLC's Hatewatch reports:
Steve King, who represented Iowa in the U.S. House of Representatives from 2003 to 2021, and Laura Loomer, a self-described "#ProudIslamophobe," are set to address American Renaissance's annual gathering on Nov. 18-20, according to promotional material from the group that Hatewatch obtained. Loomer is currently running for U.S. House of Representatives in Florida.

The event, which takes place each year at a state park 35 miles outside of Nashville, Tennessee, has served as a haven for neo-Nazis, white nationalists, Klansmen and other prominent figures in the American and international racist right throughout the years. American Renaissance is a self-described "race-realist, white advocacy organization" founded in 1990 whose staffers include admirers of terroristic literature.

Loomer is an anti-Muslim bigot and conspiracy theorist who has collaborated with a range of hard-right political operatives, including Jack Posobiec, Mike Cernovich, Roger Stone and Nick Fuentes.
Read the full article.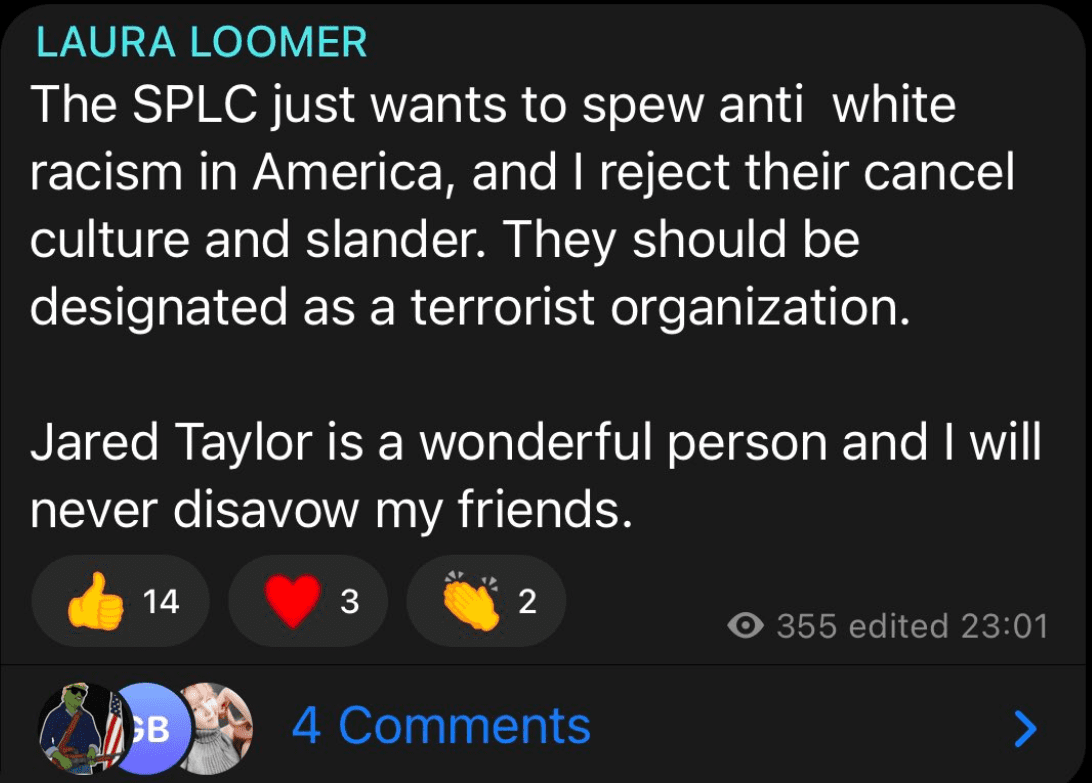 laura loomer, who received trump's endorsement during her 2020 congressional run, responded to my @Hatewatch article on her forthcoming appearance at a white nationalist conference. she calls jared taylor, a long-time leader in the movement, a "wonderful person." https://t.co/vXOuYoQG13 pic.twitter.com/v1vWJ3VNcO

— hannah gais (@hannahgais) July 7, 2022
Anti-Muslim conspiracy theorist Laura Loomer, who uses racist slurs to describe Black people, said she met today with Grady Judd, the sheriff of Polk County, Florida. Loomer, 28, is running in the Republican primary to try to unseat Congressman Dan Webster. pic.twitter.com/Kzj3TW5gnF

— Nick Martin (@nickmartin) May 11, 2022
Flynn and Roger Stone Stump for Loomer in The Villages Against Rep. Websterhttps://t.co/29EZMjdm8j

— David smith (@Davidsm66125388) May 30, 2022