The Space Coast Rocket reports:
Last night, the City of Palm Bay held their annual Independence Day celebration at Eastern Florida State College in Palm Bay. State Representative Randy Fine was a guest speaker at the event. Fine posted on his social media that he was asked to come speak by Mayor Medina, however emails show that Fine asked Medina to come be a speaker at the event. Although Medina was advised to not have Fine speak directly, he did so anyway and had him accompany him with a presentation on the stage.
The Daily Beast reports:
Mayor Medina dedicated a speech to former Army first sergeant Joseph Mayo, who was sentenced to 35 years in prison for his involvement in the deaths of four Iraqi detainees in 2008. Mayo pled guilty to participating in the execution-style murder of the detainees, and was incarcerated at a Fort Leavenworth, Kansas, military prison until 2015, when he was released on parole. Medina invited Mayo onstage at the city event and presented him with an American flag.
From a 2009 CBS News reports:
Wearing his dress uniform and speaking crisply and confidently, Sgt. 1st Class Joseph Mayo of Fort Bragg, North Carolina, pleaded guilty to charges of premeditated murder and conspiracy to commit premeditated murder at the proceeding at the U.S. Army's Rose Barracks in southern Germany.

The 27-year-old was sentenced to 35 years in prison and will be incarcerated at the military prison in Fort Leavenworth, Kansas. He will also be dishonorably discharged. His lawyer, Michael Waddington, said Mayo would be eligible for parole in about 10 years.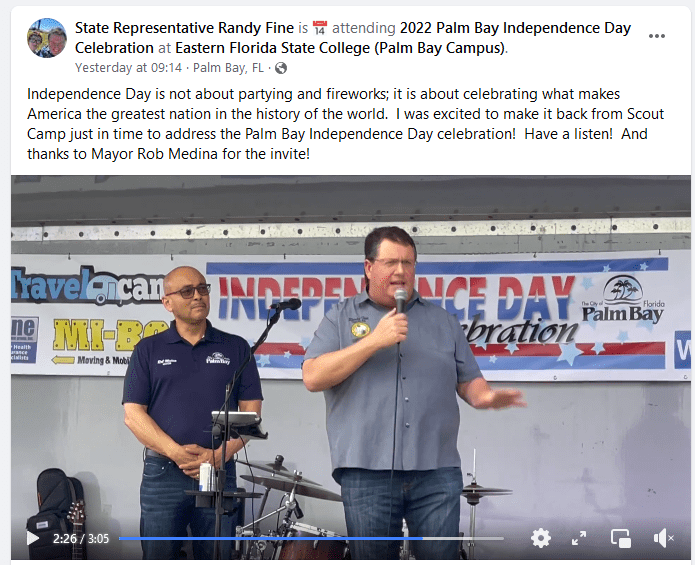 Former army sergeant Joseph Mayo pled guilty to participating in the execution-style 2008 murder of four detainees https://t.co/ZswqlY6B8G

— The Daily Beast (@thedailybeast) July 4, 2022
RELATED: State Rep. Randy Fine last appeared on JMG in May 2022 when he tweeted what many interpreted as a threat to assassinate President Biden. Before that, Fine appeared on JMG when he called for felony charges after Florida Democrats staged a sit-in over the racist US House map submitted by DeSantis. And before that, he appeared here when he threatened to defund a Florida Special Olympics event and called a local school board member a "whore" because she'd been invited its fundraiser gala and he was not. Fine is the sponsor of the bill that stripped Disney's self-governing status. His family owns annual passes to the "woke" theme park giant.