Via press release:
Today, conservative attorneys John Pierce and former United States Congressman Bob Barr (R-GA) announced the filing of a major, $10 billion-plus federal civil RICO lawsuit against Facebook, Twitter, Mark Zuckerberg, and Jack Dorsey on behalf of Florida congressional candidate Laura Loomer.

The Complaint, filed in the United States District Court for the Northern District of California, alleges what millions of Americans already know – that these social media giants have long engaged in a pattern of racketeering activity, including extortion, all designed to stifle free speech based on political viewpoints under the pretext of upholding "community guidelines."

Loomer is an investigative journalist and a Jewish conservative woman running for the U.S. House of Representatives in Florida's 11th congressional district.

She has never called for violence, has never engaged in conduct such as "doxing," and has never supported groups or individuals who engage in or promote terrorism.

Notwithstanding this history, because of her political viewpoints she has effectively been silenced, digitally exterminated, and removed from the modern-day town square through a variety of Orwellian Big Tech tactics. She has been arbitrarily designated a "dangerous individual" and accused of violating "community standards."

Loomer's Complaint also alleges that a significant factor in Big Tech's decision to ban her was pressure from Proctor & Gamble (P&G), one of the largest digital advertisers and the biggest consumer goods product company in the world.

In April 2019, P&G's Chief Brand Officer made clear publicly that it did not want its brands tarnished by "divisive" voices and people like Loomer. The next day, exactly three years ago to the day of the filing of this lawsuit, Loomer was designated a "dangerous individual" by Facebook in its scramble to appease one of its largest advertisers.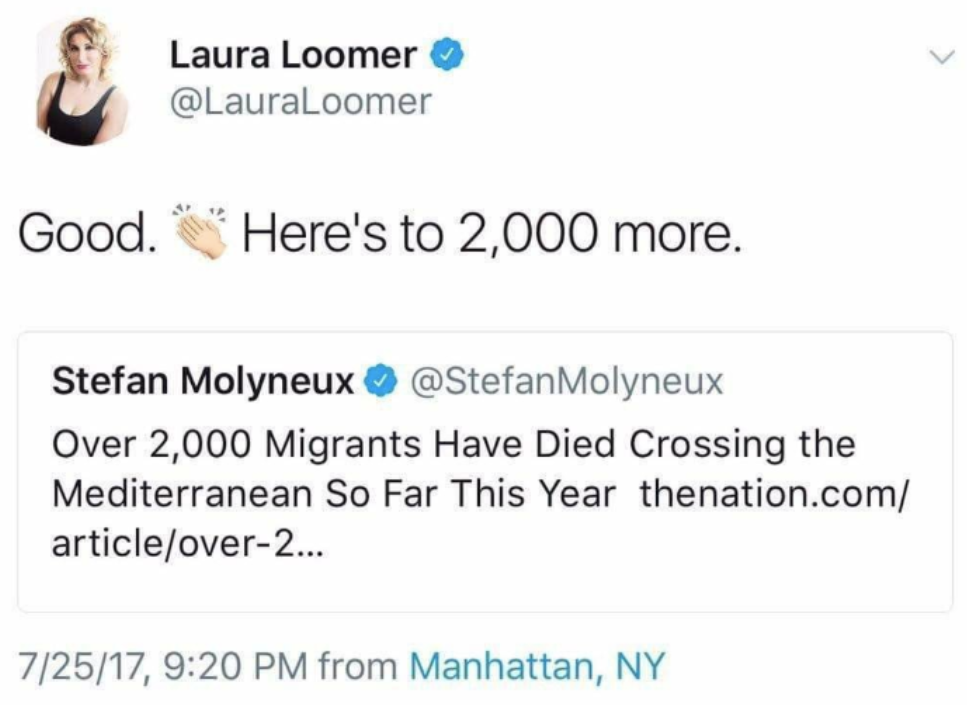 Republican congressional candidate Laura Loomer says she has filed a federal racketeering lawsuit today against Twitter and Facebook for their permanent bans of her from their platforms. pic.twitter.com/4d8pZzOm7k

— Ron Filipkowski ?? (@RonFilipkowski) May 2, 2022