Right Wing Watch reports:
Arizona state Sen. Wendy Rogers on Monday endorsed Laura Loomer, a far-right activist who recently said that she believes her white nationalist views will benefit her in her bid for Congress in Florida's 11th District.

Rogers, a 67-year-old grandmother, has made a name for herself by peddling the Big Lie that the 2020 election was stolen from former President Donald Trump. Riding the wave of a Trump endorsement in 2021, Rogers raised nearly $2.5 million last year.

She has expressed adoration for white nationalist Nick Fuentes, and this February, she appeared by video at Fuentes' white nationalist conference, an event that Loomer also attended in-person. In Rogers' address, she expressed her admiration for Fuentes and the America First movement and told them that "we need to build more gallows" for perceived enemies.
Read the full article.
Rogers, who never met an insane QAnon claim that she wouldn't promote, regularly boasts about being a member of the Oath Keepers.
She also claims hat she only supports "pure bloods."
This weekend, Loomer led a protest outside Disney World, whose sign was defaced to read "Pedo World."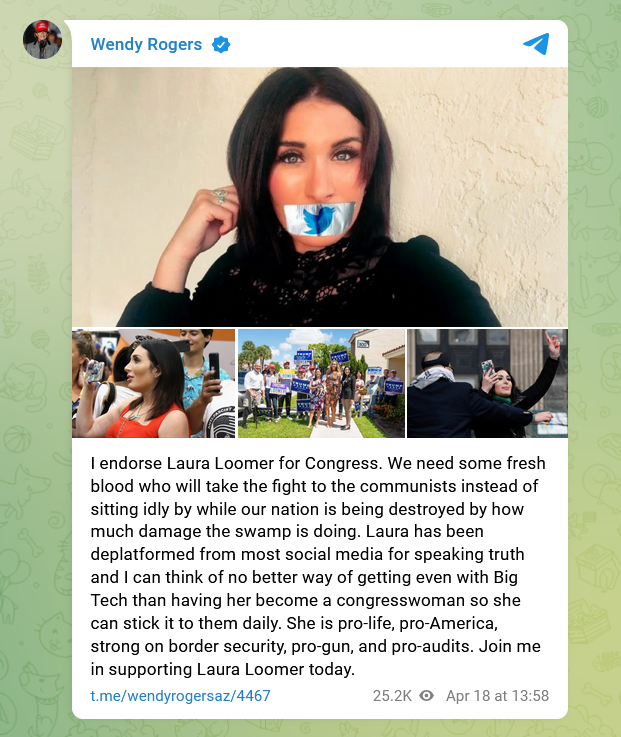 Sen. Wendy Rogers was doomed. Then, suddenly, she wasn't, thanks to a last-minute 'tweak' to Arizona's new political districts. Did our supposedly Independent Redistricting Commission toss out the constitution to protect her election prospects? https://t.co/FoB3qQNRCq

— Laurie Roberts (@LaurieRoberts) April 11, 2022