NBC New York reports:
New York City, where the Stonewall Inn riots ignited what many consider to be the birth of the modern LGBTQ+ rights movement, has long voiced its support for that community. Now it wants its message heard in one place, especially: Florida.

Starting Monday, Mayor Eric Adams is wallpapering the Sunshine State with digital billboards espousing New York City's vociferous opposition to the so-called "Don't Say Gay" bill that Florida Gov. Ron DeSantis signed into law, he said Monday.

The billboards, Adams said from City Hall, will be up for eight weeks in five major Florida markets, including Fort Lauderdale, Jacksonville, Orlando, Tampa and West Palm Beach, and are expected to deliver an estimated 5 million impressions.
Read the full article.
Robbie Kaplan (below) is the lead attorney for coalition suing Florida over "Don't Say Gay." You should recall that she was Edie Windsor's attorney in the DOMA battle. Also below, you'll see that hate groups are already raging. Here's other billboard samples.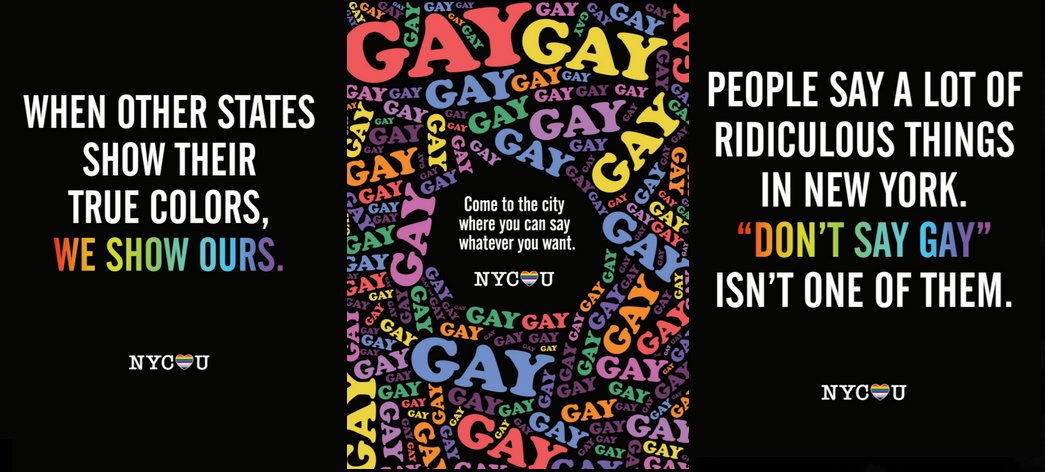 I have lived in the big apple now for most of my life. There is a reason why I came to study at @ColumbiaLaw and never really left. Never have I been so proud to be a New Yorker. https://t.co/j6bTbLYlis

— Robbie Kaplan (@kaplanrobbie) April 4, 2022
NYC Mayor Adams says he is putting up billboards in Florida to try and convince gay residents to move to New York City in response to the Parental Rights in Education law that makes it illegal to teach sexual orientation to K-3rd graders.
pic.twitter.com/QVuK0IyCma

— American Principles 🇺🇸 (@approject) April 4, 2022