Via email from hate group leader Brian Brown:
Today the National Organization for Marriage joins a global coalition in launching a petition campaign and boycott of Disney Corporation: DumpDisney.com.

This will be our largest petition in history with support from organizations in over 30 countries around the world.

It is time for pro-family conservatives to make clear that we will not spend our money at institutions that openly mock and deride our values.

The Disney Corporation has chosen a side in the culture war by using its resources to oppose the common-sense legislation in Florida to stop the indoctrination of our children as young as 5 in our public schools.

They've chosen radical activists over the families that spend money on visiting their theme parks and watching their movies.

Disney has fully embraced gender ideology and the LGBTQIA agenda at the highest levels. From lewd pride parades to top-level employees making clear that Disney leadership hates our values.

No more. A coalition of organizations has launched what we believe will be the largest global petition and boycott against Disney.

In multiple languages, this petition gives you the ability to hit Disney where it hurts–in the pocketbook. Enough is enough. Let Disney know that you are done.

Sign the petition to CEO, Bob Chapek, to make clear that you will purchase NO Disney products until Disney changes course and respects the families that pay good money for Disney products.

We'll even send a personal letter for you to Bob Chapek and a fax if you contribute $5.00 or more to this effort!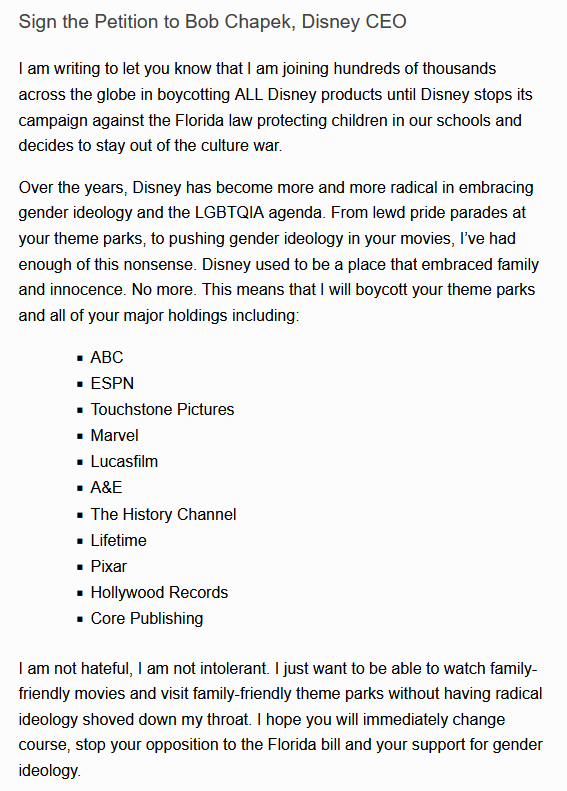 IOF and a coalition of international organizations launch world-wide "Dump Disney" petition https://t.co/hGJOLIiTpL #profamily #prolife #naturalfamily pic.twitter.com/ZDdpVnZxSU

— iFamNewsEN (@iFamNewsEN) April 29, 2022