NY1 reports:
City Council member Vickie Paladino told NY1 she'll never disclose if she's vaccinated against COVID-19. "It's just nobody's business whether I am or not. See, it's called medical freedom," she said, stressing that she's anti-mandate, not anti-vaccine.

"I don't need to show you my papers. This is not Nazi Germany," the newly elected Queens Republican said. That staunch refusal kept Paladino barred from the City Council chambers recently when the new class of 51 members chose Adrienne Adams as its speaker. Paladino cast her remote vote yards away in Minority Leader Joe Borelli's office.

Paladino is not new to COVID-19 controversy. In December 2020, video of her in a maskless conga line at a local GOP holiday party was widely seen.
From the editorial board of the New York Daily News:
In a Twitter thread the new lawmaker was no doubt waiting eagerly to send, Paladino complained about "left-wing crybullies trying to keep a strong anti-mandate voice out of the Council chamber" before adding, somewhat dubiously, that she did not "want to make this day about me."

She indicated that she would not willingly leave again, and instead would have to be removed going forward.

This silly stunt likely won't have a real health impact on her Council colleagues, who are all vaccinated (and it's not clear that Paladino isn't), but an elected official taking such a stand erodes public trust in safe and effective vaccines, which are the only thing keeping the current omicron wave from wreaking more havoc on New York.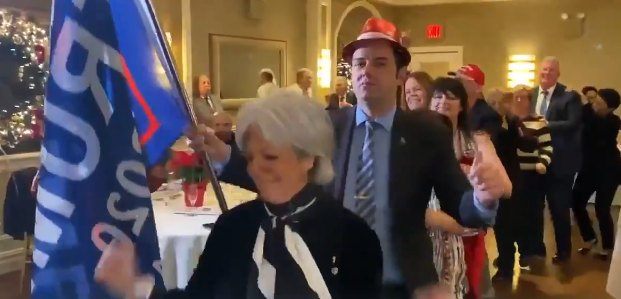 Today was my first day as an active member of the City Council. Unfortunately, I was barred from the chamber floor due to my refusal to submit vax status to the city. Our government is now interfering with a duly elected representative's right to access the mechanisms of office. pic.twitter.com/AA9gvfV2zR

— Councilwoman Vickie Paladino (@VickieforNYC) January 5, 2022
Upon my arrival at City Hall, I was informed by Council officials that several progressive members had expressed 'serious' concern over me being in the building, and was told that I'd be removed from chambers if I attempted to enter.

— Councilwoman Vickie Paladino (@VickieforNYC) January 5, 2022
I'm sure these progressives were just as scared of COVID as @AOC was while partying in Miami, and this had nothing to do with left-wing crybullies trying to keep a strong anti-mandate voice out of the council chamber. Nevertheless, I did not want to make this day about me.

— Councilwoman Vickie Paladino (@VickieforNYC) January 5, 2022
Queens Daily Eagle: Man hospitalized for COVID-19 after Queens Republican club Christmas party. https://t.co/ZRMbGEpoUy

— Kyle Griffin (@kylegriffin1) December 30, 2020