The Daily Beast reports:
A Kansas man claiming he had been told by God to travel to Washington, D.C., to "lop off the head of the serpent in the heart of the nation" has been charged with threatening to assassinate President Joe Biden via a "fatal head wound," according to a criminal complaint first obtained by The Daily Beast. On Jan. 26, construction contractor Scott Merryman drove from Independence, Kansas, to Hagerstown, Maryland, where he was intercepted by the Secret Service in the parking lot of a Cracker Barrel, the complaint states.
Read the full article. Hoo boy, his Facebook page.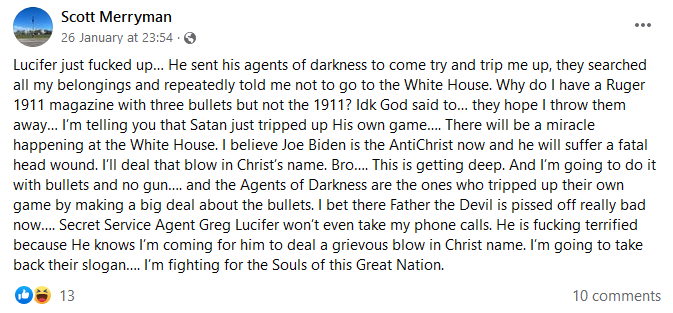 NEW:Feds charge Scott Ryan Merryman w threatening President Joe Biden.

"I'm coming with three bullets no guns. I am coming by myself."

Court docs⬇️say no weapons found, but when USSS searched him in Hagerstown, MD, they found a magazine+spotting scope.https://t.co/JZ2pJ1KDmd pic.twitter.com/ivOanb9jVy

— Rob Legare (@RobLegare) January 28, 2022