Law & Crime reports:
The Arizona man who stormed the Capitol dressed in what he said was the garb of a figure from the Book of Mormon has pleaded guilty to a misdemeanor.

"I'm representing Captain Moroni, Captain Moroni of the Book of Mormon," Nathan Wayne Entrekin, 48, told another person, according to the statement of facts. "A William Wallace figure of the Book of Mormon."

According to the Book of Mormon, the sacred text of members of the Church of Jesus Christ of Latter-day Saints, Captain Moroni was the chief captain of the Nephites. As the statement of facts said, Captain Moroni is believed to have led a fight against a group that "wanted to overthrow democracy and install a king."
Read the full article.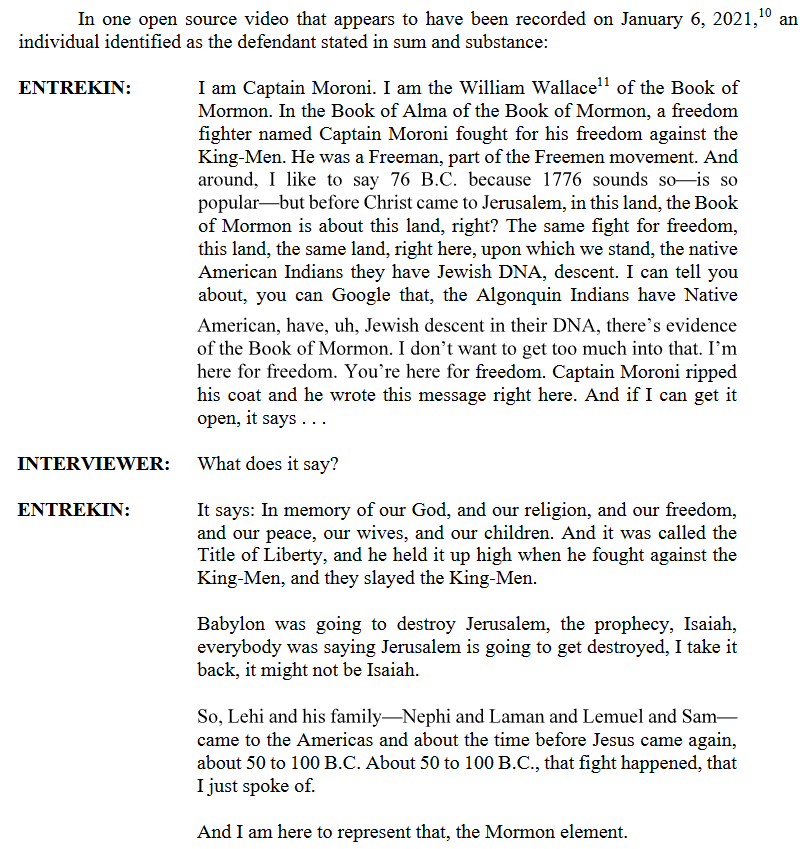 Arizona Man Who Stormed the Capitol Dressed as the Book of Mormon's 'Captain Moroni' Pleads Guiltyhttps://t.co/2UOY8d3Mzz

— Law & Crime (@lawcrimenews) January 14, 2022
At 2 p.m., Nathan Wayne Entrekin, of Cottonwood, Arizona, will be pleading guilty before U.S. District Judge Florence Pan. Entrekin joined in the #CapitolRiot dressed like the Book of Mormon figure Captain Moroni. @wusa9 @EricFlackTV pic.twitter.com/FVLVWMfId2

— Jordan Fischer (@JordanOnRecord) January 14, 2022
The Arizona man who dressed as Captain Moroni from the Book of Mormon during the US Capitol breach on Jan. 6, 2021, pleaded guilty to a single misdemeanor in federal court in Washington. https://t.co/dbgFNOe9aM

— KSL (@KSLcom) January 15, 2022
A week before the Capitol insurrection, Nathan Wayne Entrekin wrote on Twitter: "Hey Patriots! Captain Moroni is coming to DC on Jan 6. Yay! https://t.co/ub7RpUW35L

— Margaret (@Margaretherapy) January 15, 2022
Adding on, this guy is dressed up as Captain Moroni, an important figure in the Book of Mormon. pic.twitter.com/dW4OKIWmag

— Sunshine Y Church 🏳️‍🌈 (@SunshineYChurch) January 7, 2022