Axios reports:
The House select committee investigating the Jan. 6 attack on Friday announced subpoenas for more than a dozen people who led groups of "alternate electors" for former President Trump.

Why it matters: Slates of fake electors organized by pro-Trump forces in the wake of the 2020 election have come under intense scrutiny in recent weeks around the one-year anniversary of the attack.

The scheme was reportedly led by Trump lawyer Rudy Giuliani and other Trump campaign officials and involved putting forward illegitimate Trump electors in seven key states won by President Biden.
Read the full article. Photo: Kathy Berden.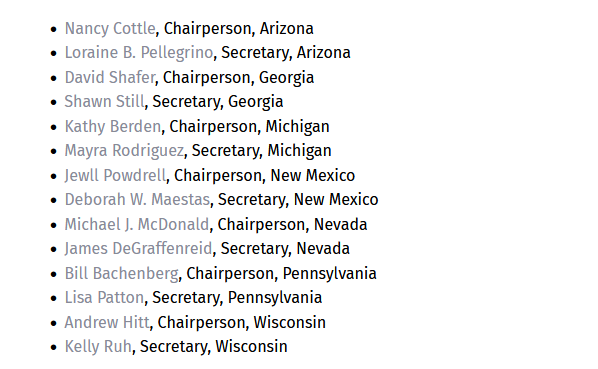 The Select Committee has issued subpoenas to 14 individuals who participated as purported "alternate electors" for former President Trump.

The committee is seeking information from individuals who met and submitted purported Electoral-College certificates in seven states. pic.twitter.com/XAgQS8a8NF

— January 6th Committee (@January6thCmte) January 28, 2022